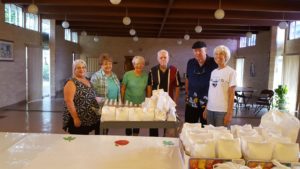 Lunch on Us is our weekly free lunch program at First Presbyterian Church, Natchitoches.
Supported by donations and grants, the program is designed to reach out to the community and meet their needs, and feed anyone who is hungry.
Volunteers arrive at 10:00a.m. to begin preparing lunches in our Health Department Certified kitchen. The bagged lunches consist of a sandwich, carrots, a piece of fruit, cookies, and a small bottle of water.
Those wishing to have lunches can call in advance: 318-352-3016, by 10:45a.m. on Wednesdays, and request up to 5 lunches for free, or pay $1 each for every lunch over 5, and then come pick them up at 11:30. Alternatively, they can come by the church at 11:30 and see if any are available–first come, first served.  Lunches are not delivered.
If you have questions about volunteering, donating to, or receiving a lunch from Lunch on Us, please contact the church at: 318-352-3016 or [email protected]