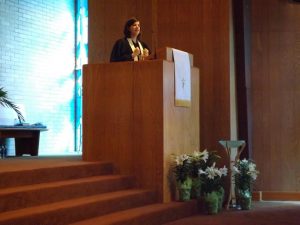 We have a traditional style worship service, but hopefully you will see that being small means we are laid back about a lot of it!
Our music director, Michael Rorex, is a professor at NSU, who graciously lends his talents to us as well.  Our music is led by organ or piano, and a choir.
We sing hymns out of a hymnbook, and follow a printed bulletin, so you won't be lost in our worship service.
The beginning of worship and the prayers are led by different volunteers from the congregation each week, and we love people to volunteer to lead!
We engage in the practice of "passing the peace", and we really mean it!  Folks get out of their pews and greet everyone. Be prepared to shake a lot of hands!
Children are welcome and encouraged to stay through worship.  But if they need a little break, we have a small "cry room", directly behind the sanctuary, which allows sight of the service, with a little more privacy.
On communion Sundays, we pass plates of bread, and each person takes a piece from the loaf, and then trays of small cups of juice, which each person takes to drink.  We also provide gluten free crackers.  We pass the plates back and forth along each row. You are welcome to partake with us, but not obligated to do so.
If you have questions about attending our services, please don't hesitate to ask, by email:  [email protected],  or phone: 318-352-3016.