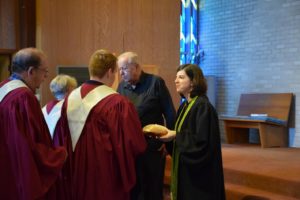 We'd love to have you join us at First Presbyterian Church, Natchitoches! We're a smaller congregation with a big heart—a heart for connection, for community, and most importantly, for serving God!
Our church mission statement sums us up:  Called as individuals to be a community, we are created by God, saved by Jesus Christ, and led by the Holy Spirit to serve in this place, at this time.
We believe that each one of our lives can be used in service to God, and that God created and called and loves us.
We believe Jesus Christ freed us from the power of sin, so we can live out our callings and choose to follow him as disciples.
We believe that the Holy Spirit leads us individually and together, to the Lord's call and freedom, and empowers us to serve in the world around us.
We believe the community we're a part of is our mission field, the place where our service and calling are lived out.
We believe that God is just as living and active, that Jesus' freedom is just as necessary, that the Holy Spirit's power is just as visible at this time in history as any other time, and constantly seek ways to be disciples in the present age.