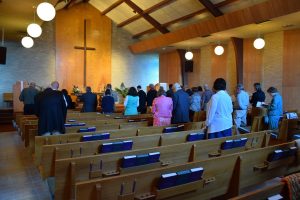 First Presbyterian Church, Natchitoches was organized in 1910 to serve the Presbyterian students attending what is now Northwestern State University's Natchitoches campus.  The first building was on the corner of Second and Demeziere streets, but in 1962 the congregation moved to its current space in east Natchitoches. In 1997 the new education wing, kitchen, and classrooms were added.
The church has been involved with local schools, particularly NSULA, in both traditional campus ministry, and in outreach through the Creative and Performing Arts program, especially through the support of college students who sing in the choir. The church also connects to our community through our Lunch on Us program, a free lunch provided each Wednesday from 11:30a.m. to 12p.m., and through the use of our education wing and fellowship hall for community group meetings, and use as a polling station.
Our congregation is made up of around 45 people who are actively involved in leadership, worship, fellowship and service.  First Presbyterian continues in their mission of serving the students in our area, but also serves the area around us, and the community at large through our worship, programs, and facilities.